Information on veteran named Harry J. Schmitt
(the following article is information the Post received via email)
Subject: I hope to contact men who served in my uncle;s 98th FIS
Hello, I write to you as someone whose uncle died while serving in the Air Force in 1958. I am an experienced historian who is writing a book on my uncle and hope communicate by phone, email or via correspondence with men who served in my uncle's 98th Fighter-Interceptor Squadron. I have been advised by a retired Air Force officer I interviewed that the only chance I have of interviewing men who served in the squadron would be to contact American Legion Posts located near Air Force Bases where the squadron was stationed. I was told that Air Force officers often retire near where they last served. Since the 98th was stationed at Suffolk County Air Force Base I have emailed you in the hope that you may be able to tell me if any members of your post served in the 98th and would be willing to communicate with me.
Please allow me to tell you a little about my uncle, Harry J. Schmitt. He graduated from the Queens College, New York Air Force ROTC program and received a commission as a 2nd Lieutenant on June 20, 1956.
Read more: Information on veteran named Harry J. Schmitt
In Memoriam - Frank DePergola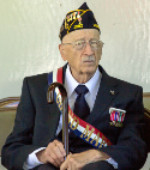 Frank DePergola

May 11
,

1932 to April 3, 2020
Dear Post Members, on Friday, April 3, 2020, Post member, Frank DePergola, passed away and reported to Post Everlasing. Frank DePergola, was a kind and gentle man. I first met Frank, at our Post meetings and he would also help the American Legion during their veteran fund rasing drive at the old Holmers Service Station in Merrick (now the B.P. service station) during the month of May. I got to know more about Frank DePergola, when he was the Grand Marshall for the Merrick's Memorial Day Parade and Ceremony on Memorial Day of 2013 (i.e. 5/27/2013). Post member Frank DePergola will be sorely missed.
Read more: In Memoriam - Frank DePergola
This event is cancelled due to the Corona Virus Pandemic!!!
Law and Order Day 2020 Ceremony
On Sunday, April 26, 2020, at 3:00 pm, the Post will be conducting its annual Law and Order Day Ceremony for outstanding individuals who have served their community during the past year (2019) from the First and Seventh Police Precincts, the MTA/LIRR Police Department, the New York State Police Department, the Merrick and North Merrick Fire Departments and the Bellmore/Merrick EMS Department. Family members of these chosen individuals are invited to witness this ceremony. Refreshments will be served.
Read more: Law and Order Day 2020 Ceremony